These Echo-quilting Clips have been especially developed for quilting with the Adjustable Ruler Foot #72 and Ruler Foot #96. The Echo-quilting Clips are made of scratchproof and anti-static plastic; therefore, the surface remains scratch and lint free. Easily clip the transparent Echo-quilting Clips on the sole of the Ruler foot.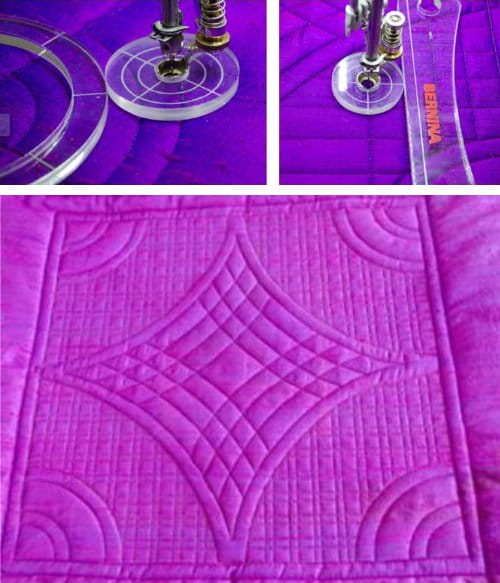 What is echo-quilting?
When working with the Echo-quilting Clips, you quilt around a motif to have it framed. For this purpose, the clips are guided in free-motion or along a plexiglass ruler. This technique is called 'echo-quilting'.
Easily create decorative quilt patterns (such as 'crosshatching or 'piano keys') with the BERNINA plexiglass rulers and the various spacings of the Echo-quilting Clips. Position and guide the clips due to the lasered markings. Perfect patterns will succeed anytime!
Each set includes three Echo-quilting Clips in following sizes:
1x Echo-quilting Clip, radius 0.5 Inch
1x Echo-quilting Clip, radius 0.75 Inch
1x Echo-quilting Clip, radius 1.0 Inch
Note:
Not all models and accessories are available in all countries. We reserve the right to make changes in both features and design.