BERNINA Longarm Quilting Machines on Frame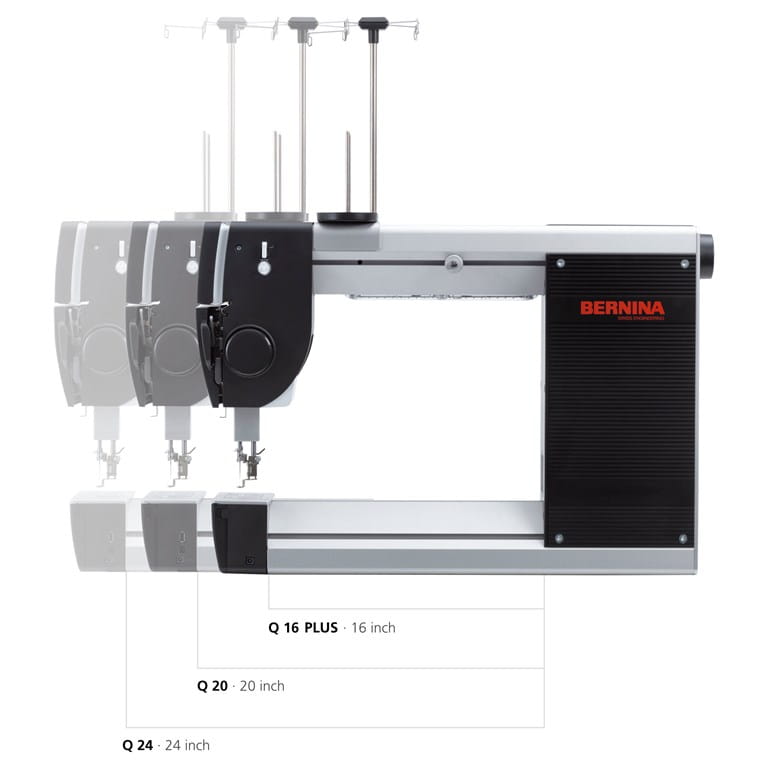 From the very first stitch, you will appreciate the thought behind every detail
The BERNINA Q 16 PLUS, Q 20 and Q 24 are longarm quilting machines and only differ in the length of the throat space.
Throat space of Q 24: 24 inches
Throat space of Q 20: 20 inches
Throat space of Q 16 PLUS: 16 inches
For the Q 24 and Q 20, BERNINA offers the quilting frame in three sizes: "Small", "Classic" and "Large". The BERNINA Studio Frame is suitable for use with the Q 16 PLUS and Q 20.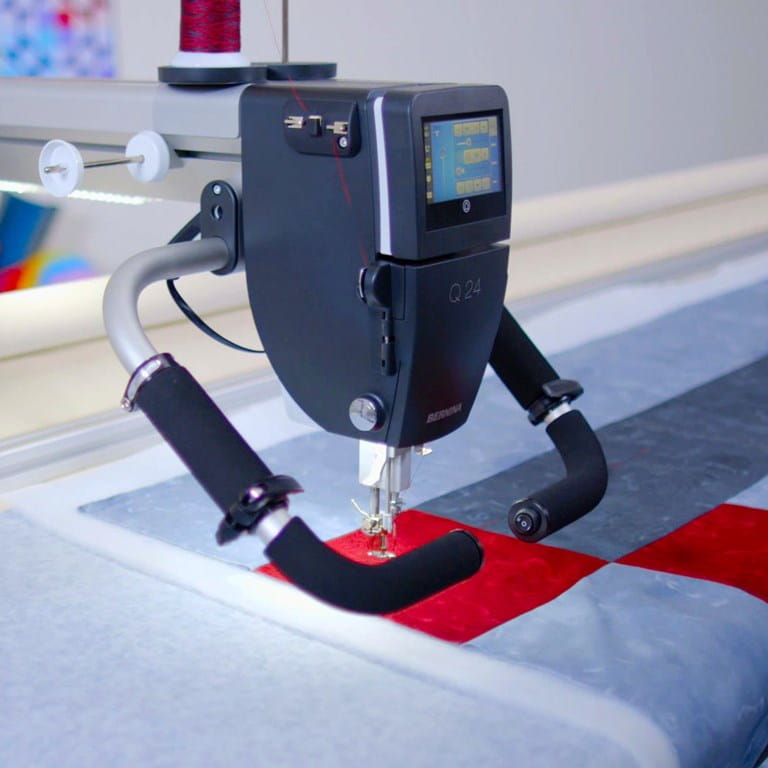 Hand-guided quilting made easy
Precise regulated stitches (in BSR mode)
Four different modes for full flexibility
Simple customization via touch screen
Thanks to the integrated BERNINA Longarm Stitch Regulator you achieve perfect stitches at equal-length no matter which speed you move the fabric. A manual mode with no stitch regulation is also available.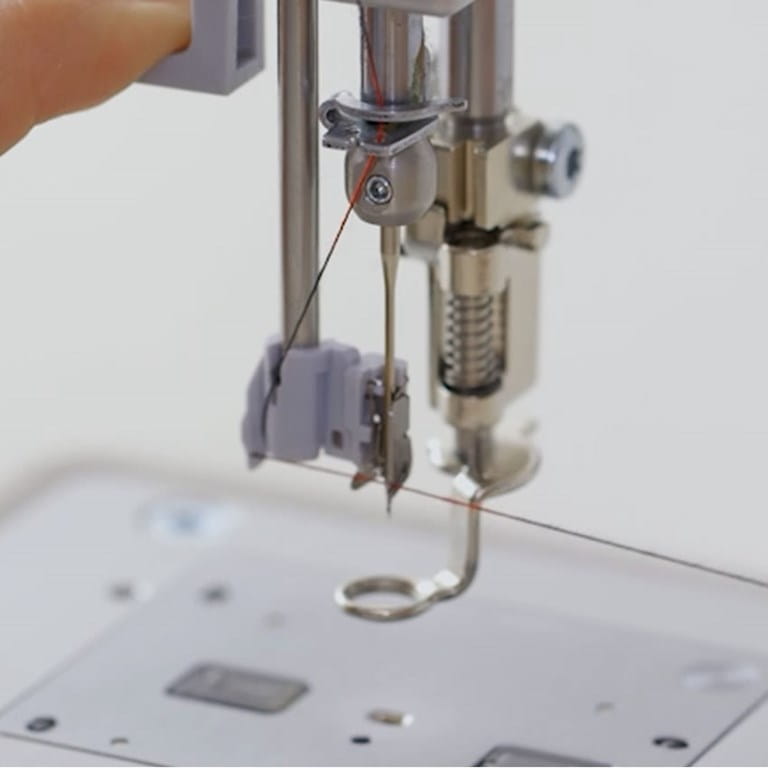 Fast threading and winding
Threading becomes a child's play
Enjoy comfort all the way
Wind your own bobbin in no time
The well-positioned spool holders and forward threading path are easy to reach and simple to follow. The on-board bobbin winder makes it convenient to wind your own bobbins.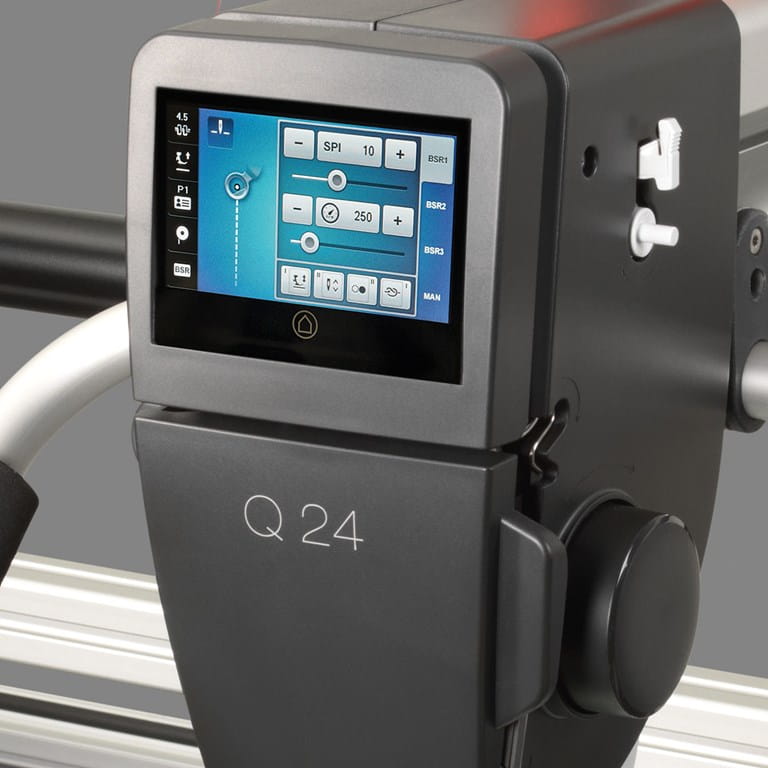 Unique user interface
Simple-to-navigate touch screen
Individual settings for full comfort
Built-in tutorials offer full assistance
Totally customizable, the user interface includes useful functions, such as five user profiles, a stitch counter, and built-in tutorials regarding maintenance.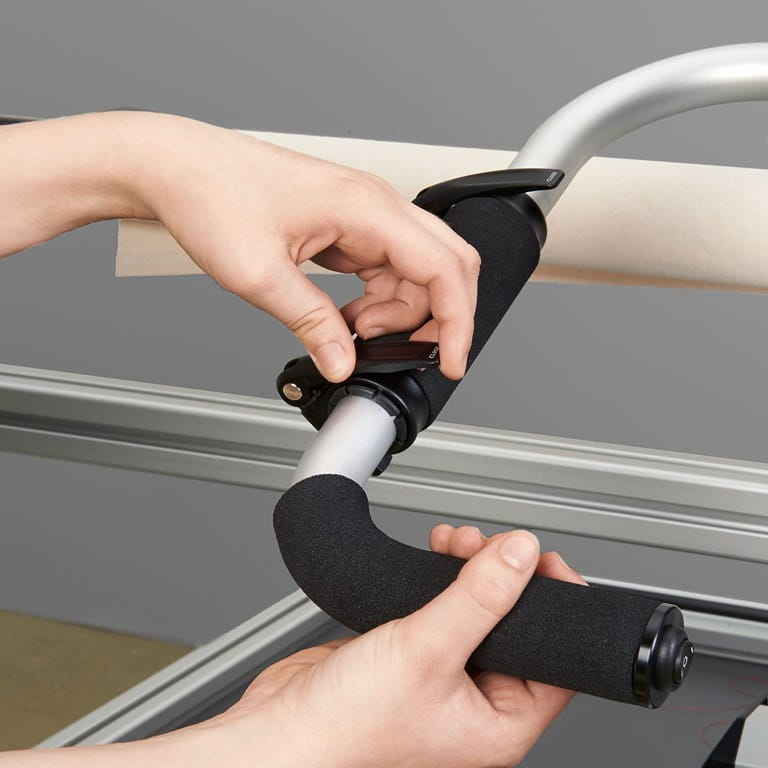 Comfortable quilting has priority
8-way, fully-adjustable handles
Quilt in your preferred position
Adapt position to any quilting method
The most frequently used functions are right at your fingertips. Fully-adjustable 8-way handles offer comfort, whether stitching edge-to-edge or custom motifs, reducing any potential fatigue. Simply quilt in your preferred position.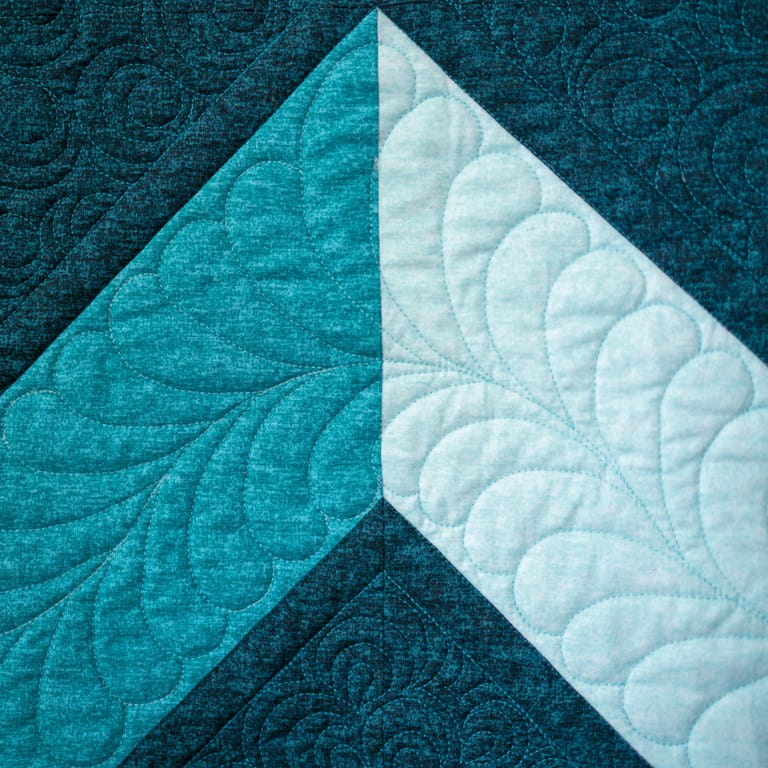 Beautiful stitches every time
Achieve precise stitching results
Stitches are always consistent
Perfection is the new standard
With high-speed precision stitching up to 2.200 stitches per minute, you will complete more quilts quicker than ever.
Ergonomics matter
Full operation from the front
Adjustable frame height
Easy manual needle positioning
The machine can be fully operated from the front. Adjust the frame height to your personal preference. Dual handwheels (front and back) allow for easy manual needle positioning.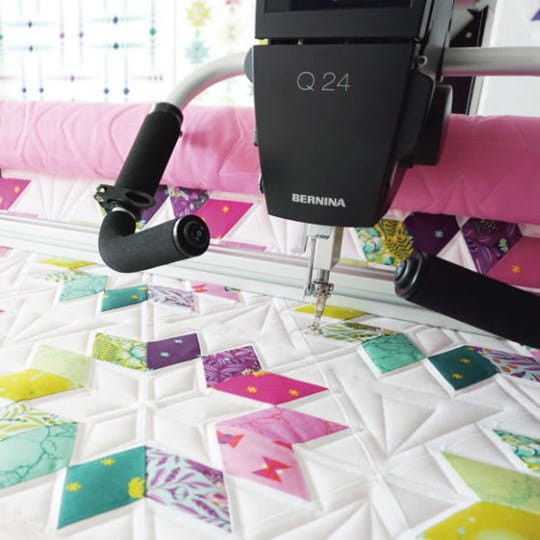 Working with bright lights
Naturally illuminated working area
Sufficient lighting even in darker rooms
Perfect illumination of the quilting area
50 bright LED lights along the throat space of the machine and above the needle illuminate the quilt for enhanced visibility.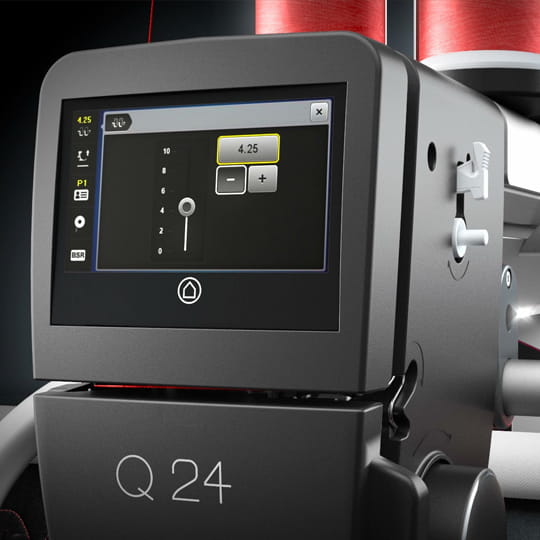 Unique thread tension control
Adjust thread tension digitally
Tension release for threading ease
No external tension assembly required
The exclusive tension system features numeric tension settings making it very easy to use a wide range of thread types with success, no external tension assembly required.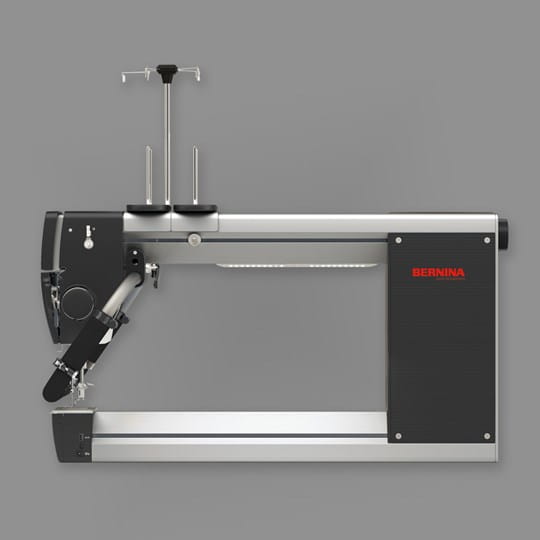 It's your choice
How much space you need
Which accessory you want to add
Build your individual long arm machine
Choose between 16 Inch (Q 16 PLUS), 20 Inch (Q 20) or 24 Inch (Q 24) throat space. Our Quilt Frames are available in different sizes.
BERNINA Q 16 PLUS
With 16″ workspace
Compatible with BERNINA Studio Frame
5 ft or 10 ft frame
The Studio Frame is a modular frame, consisting of a 5-foot basic frame and a 5-foot extension, offering a spacious 10-foot frame when mounted completely. The Studio Frame is compatible with the BERNINA Q 16 PLUS  & Q 20.
Get your BERNINA Q Series machine
Being a quilter, a maker, a creator is serious business. When it's time to make, your creativity deserves the support of a great machine.
Features & Functions
OVERVIEW
GENERAL FEATURES
SEWING & QUILTING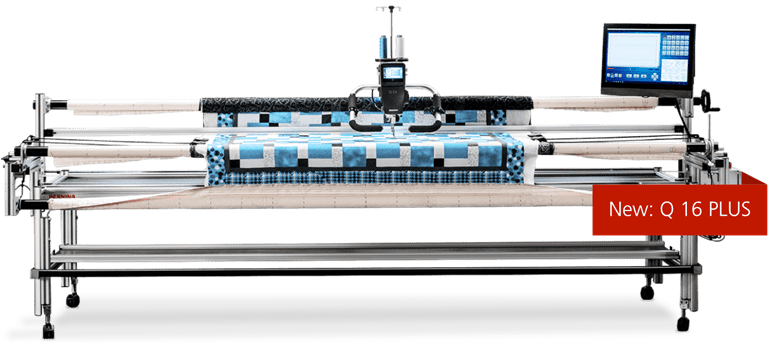 Note:
Not all models and accessories are available in all countries. We reserve the right to make changes in both features and design.
Throat space
Q 24: 24″
Q 20: 20″
Q 16 PLUS: 16″
Hook system
M Class Rotary Hook
Illumination of the full length of the free arm
50 LEDs
Presser foot lift
Electronic
Upper thread indicator
BERNINA Stitch Regulator functionality
Dual Stitch Regulator
Product brochure – All information at a glance
Frame Options
For excellent quilting results, we have developed ideal, high-quality frames which are available in different sizes. All frames are constructed from anodized aluminum for a light weight yet sturdy frame that can handle the weight, size and speed of the BERNINA longarm machines with ease.
Accessories
Unleash your creativity with the included accessories and be prepared for any creative challenge with a huge variety of optional accessories
Standard accessories Q Series on Frame
Here you will find an overview of the standard accessories for the Q Series on Frame models.
LEARN MORE
Darning Foot #9
The special shape of this multi-purpose hopping foot makes it particularly suitable for all free-motion quilting necessities.
LEARN MORE
Bobbin Case M Class
Bobbin case for the BERNINA Q Series longarm machines.
LEARN MORE
Bobbins M Class
The BERNINA M class bobbins have been especially developed for the Q Series machine and ensure a smoothly running.
LEARN MORE
Silicone Fluid
The use of the Thread-lubrication Unit is particularly recommended when working with metallic and loosely twisted threads.
LEARN MORE
Oil Pen
Regular care ensures that your longarm quilting machine runs smoothly.